Free Password Manager is a freeware program to help you systematize and store any kind of valuable information in an encrypted database. How often have you lost passwords, forgotten access codes and other sensitive information? With this program, you safely store all your passwords, logins, credit card numbers, access codes, and any other confidential information in one place.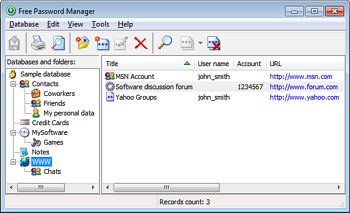 With the help of Free Password Manager you can create encrypted databases for storing any kind of information. Each database has its own access password and is encrypted using an AES algorithm. Database folders can be fully customized. You can add data fields of any type to create the desired database structure.
Free Password Manager can be installed to a removable device such as a USB flash drive. This feature allows you to access your data from any Windows computer.
Free Password Manager is very easy to use.
Free Password Manager features:
High security level
data are encrypted using AES encryption algorithm with 256-bit key;
no unencrypted temporary files ever created;
memory blocks are cleared when no longer needed;
built-in password generator;
logging of all data changes.
Other features
database and folder fields can be fully customized. It is possible to add/modify/remove fields for individual folder or entire database;
printing and ability to create custom print templates;
ability to store passwords databases and the program itself on the removable devices such as a USB flash drives;
synchronization of databases.
backup and restoring of passwords databases;
ability to check for the expired passwords on Windows start;
program can be minimized to system tray;
information sorting options;
handy and easy adjustable interface;