Every company creates a lot of data, and they have a growing need to store it and be able to access it fast. Business decision making and success relies heavily on managing data effectively. Initially, many companies store information in a range of document formats – Excel spreadsheets or simple Plain Text files, however they quickly run into a problem when different employees need to work on the same document. Additional complications also arise in terms of data protection and security – so what is the solution?
How to Keep track of clients and customers?
Where to store logins and passwords of your company's infrastructure?
Securely organize any kind of data and prevent unauthorized access?
Many companies seek advice and a solution from the IT department to create a customized database solution, typically using Microsoft Access, OpenOffice Base or a SQL server. This approach will usually require man-years of development, certainly months in real-time, to create a usable database. Even if such a database solution is created, it is highly unlikely that much effective thought and action will be taken in respect of database security (this is a highly specialized area of computer expertise). It is also very difficult to maintain such a database. Every single change of the database structure for instance will make you turn to an IT specialist to add, modify or delete the database fields.
There is also the issue of cost of database development should the business outsource the development work. Typically, the bill will come to tens of thousands of dollars, relatively open-ended development schedules and you will still have to grapple with the maintenance and support issue.
Crypt-o is a powerful database builder
There is a ready-to-go, out of the box solution for enterprise-class databases. Crypt-o provides businesses with the ability to build customized databases from scratch and fast.
Key benefits of Crypt-o include: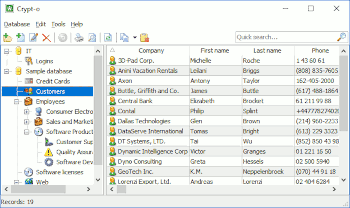 Easily create custom databases for your company.
No programming skills needed.
Strong AES encryption for data and secure TLS client connections over the network.
User rights management to fine tune access privileges to your data.
Audit logs to control any action in a custom database.
Web interface to access your custom databases from outside locations using portable devices such as iPhone, Android phone or tablet.